Several members here have sent along messages of appreciation for the earlier posts I have begun featuring 18th century work being demonstrated. One of the trades I have been fascinated with over the years is the wheelwrights making a wooden wheel that would stand up to the heavy use most wagons would endure over time.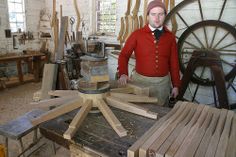 I will try to cover some of the details as the questions roll in but its fair to say the methods used in the colonies was largely influenced by the knowledge that came with the German immigrants coming to North America. The photos below are from my days at CW working as time permits. Again, I did not do a moments work with the wheelwrights. These are photos I collected later for classes I conducted and seminars I attended.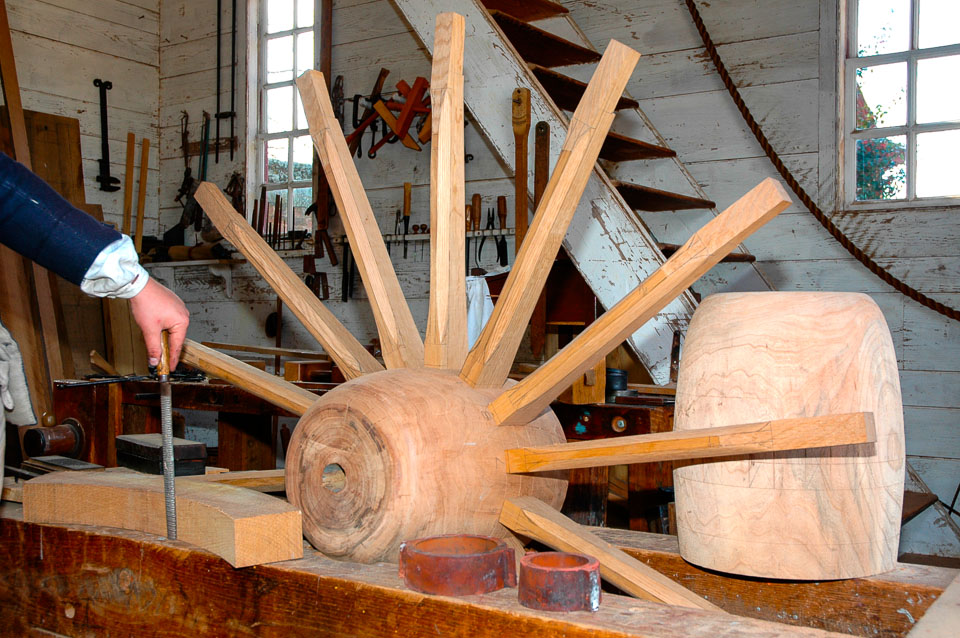 I have always marveled at the multitude of different woods chosen for their unique qualities. The center hub here is dogwood the fillies are made of white oak and the rim is made from a soft wood not a brittle wood to absorb the shock of uneven terrain. Like the windsor chair, each wood was considered carefully for its purpose and function.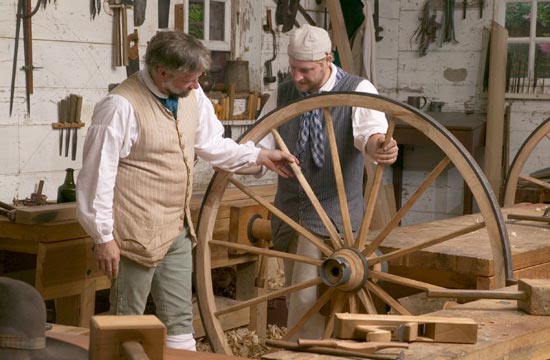 Here the wheelwrights admire their finished wheel with the tire mounted and secure.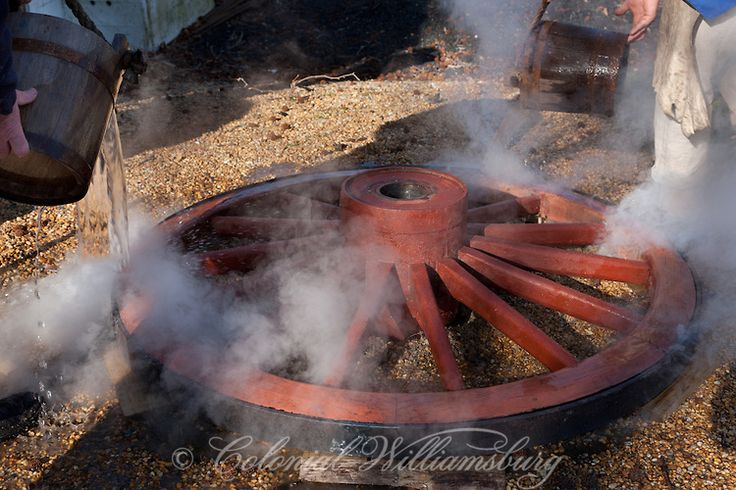 The iron rim is measured a little smaller than the wheel circumference. It is placed in a fire and heated to cherry red so it will expand enough to fit over the wood rim. With tongs it is put in place and hammered on the wooden wheel while it is expanded to make this possible. Once the iron rim is in place buckets of water are poured on the iron rim to cause it to shrink around the wheel. This is the "hope we measured correctly moment" for the builders.
For those that enjoy action videos, here is a later time period of wooden wheel construction for a small wheelbarrow. It is done in German but you can see some very careful work being done as one man builds the wheel.
For those of you who aren't "neatniks" this will give you some assurance that you can produce amazing work without having a clean bench top. Just a joke.
Enjoy
Last edited: