After I built my computer desk from ambrosia maple my wife wanted one for her new office only she wanted it to make the dark cedar portion of the shelves I built her years ago. She likes that industrial pipe look, thick top and wanted this new desk to match....for the record I cannot stand working with those pipes for multiple reasons. Looking for darker / consistent colored cedar was a non-started due to no two boards color matching, I left it was too soft of a material anyhow and I didn't want to have to dye or stain so narrowed it down to walnut or sapele. Top ended up being ~65"x~33".
The 8/4 sapele was purchased from Jon at Plank Road Mill out of Winston Salem. Great guy to work with and good prices but he also has some wonderful quality lumber so I highly recommend a visit. I found out about him through this forum by the way. Many thanks to Jeremy Scuteri from this forum for helping mill up these boards !!! Again love the community / resources this site offers ! However, even after stickering the boards pre & post milling one of the boards twisted (not a huge deal in the end). We noticed a small twist after milling but this was due to not jointing the faces first since they were 8.5-9" wide and we didn't want to make a planer sled. I thought I would just true them up with my No 8 Stanely jointer plane that Hank Merkle from this forum found, restored and sold to me. Hank was awesome to work with as well ! Unfortunately my Veritas blade & chip breaker is still on backorder so I had to use my Veritas low angle jack for refining the edges for joining the top boards and refining the end grain (my circular saw wouldn't cut this hard stuff...guess I need a brand new blade). With the beautiful ribboning in the quarter sawn sapele brought lessons learned on planing changing grain directions and heavy use of card scrapers.
My wife also wanted contrasted color bowtie inlays even though this material has zero cracks/defects so I placed them along a couple glue seams. I used soft maple for the bowties and created a bandsaw sled & jig to make consistent bowties and love this thing. I'm no longer a fan of using the bowtie inlay router jig from Rockler simply due to it creating rounded edges on the bowties & mortises. I like the sharp pointed edge bowties.
My wife likes the look and feel of natural wood so I looked to Rubio Monocoat Pure for my first attempt at using a hardwax/oil finish. Due to the grain variation the top required two coats and the second count made all the difference in the world. I love the look & feel personally. Anyway, enough talk now a few pics.
~30bft 8/4 sapele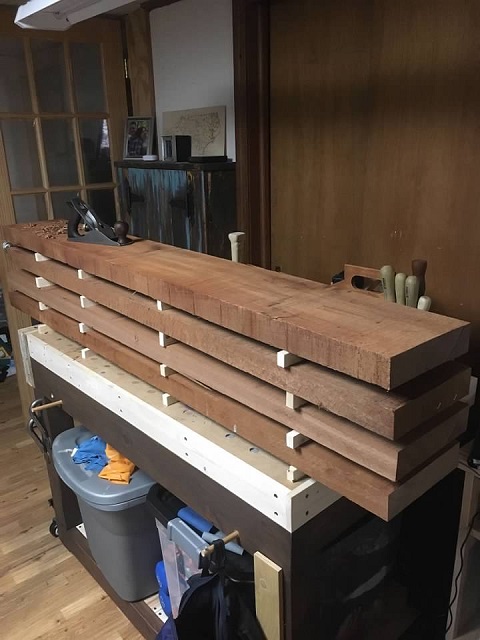 Refining the edges to make perfectly square before glue-ups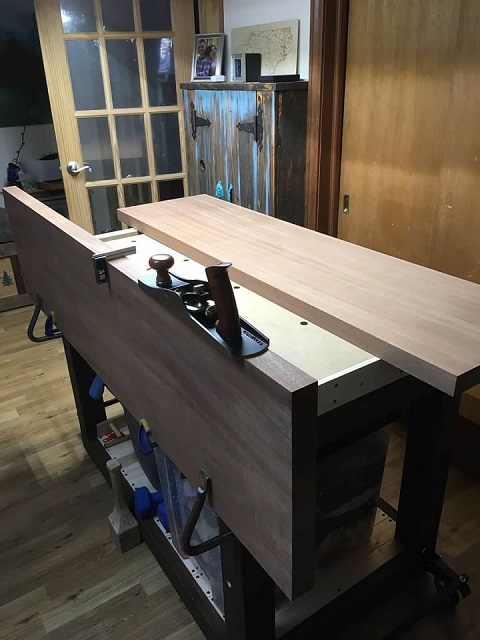 Glued up two boards for the front half then the other two for the back half then glued up the two halves. Here's just refining the glue line/squeeze out and more flatening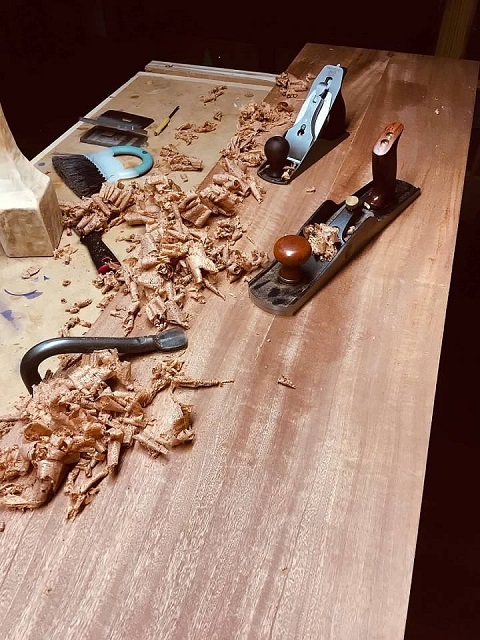 Bandsaw bowtie jig....the 1/8" plywood insert here is for a 10 degree angle and it's just taped down to hold in place. Slides closer or farther from the blade depending on the bowtie length you want.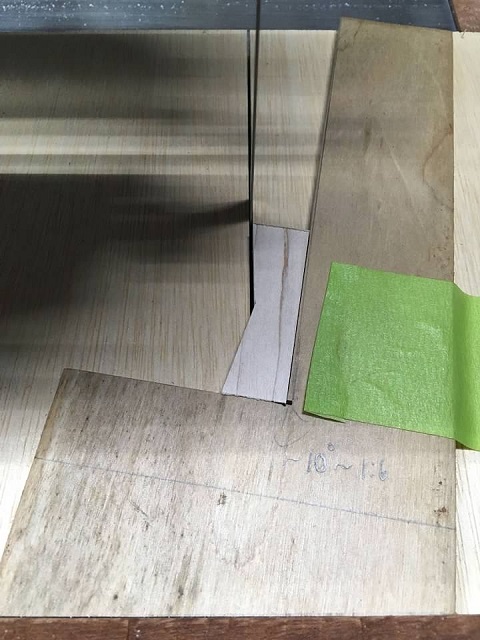 After roughing out the inlay mortises w/ a router and refining the lines via chisels for the perfect fit. This was actually the first time I've ever done this where none of the total of 5 bowties had zero gaps. I was surprised.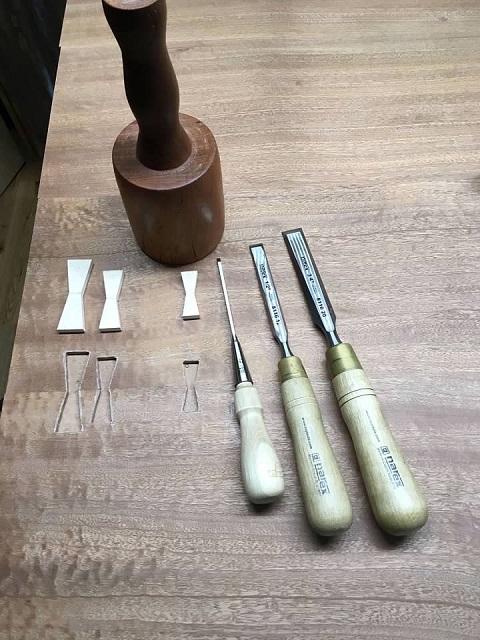 Refining the ends after my circular saw blade drifted and flexed (a ton....like a 1/4" deflection). The blade was not old but not new and even take very small depth of cuts it couldn't handle this hard of wood. So I ended up having to hand plane all of the end grain and boy was that a workout but well worth it as it turned out silky smooth in the end. I used my LN block plane, No 4 & VLAJ here.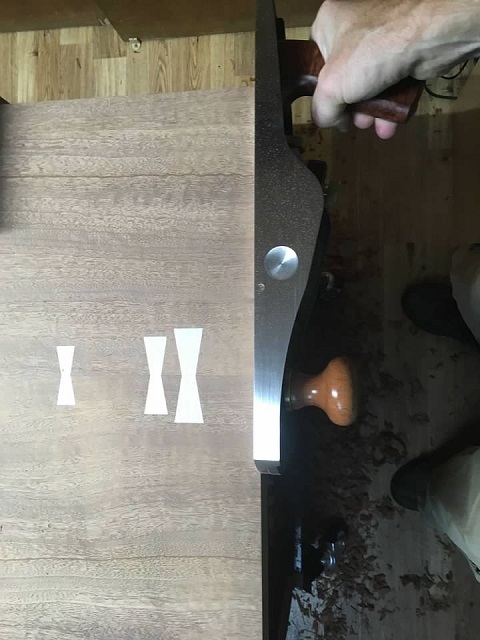 All end grain shavings....!!!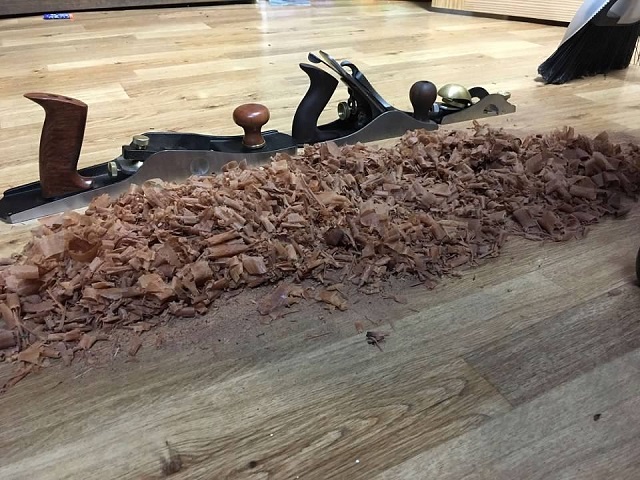 Sanded 120 then routed the edge profile (micro chamfer)...then used draw knife and No 151 spokeshave to rough up random parts of the edge for a "used" look. I hated messing up that nice chamfered edge but that's what she wanted. Then finished sanding with 150 & 180. Went slowly and observed zero pig tail swirl marks. Most of us sand way too fast.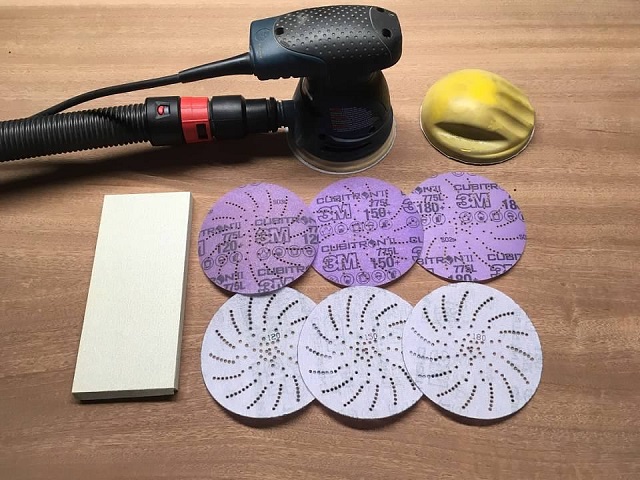 Used my new Rockler Portable Drill Guide and 3" hole saw to make the cut out for the desk outlet & phone charger. I hated drilling into this beautiful top but that's what she wanted....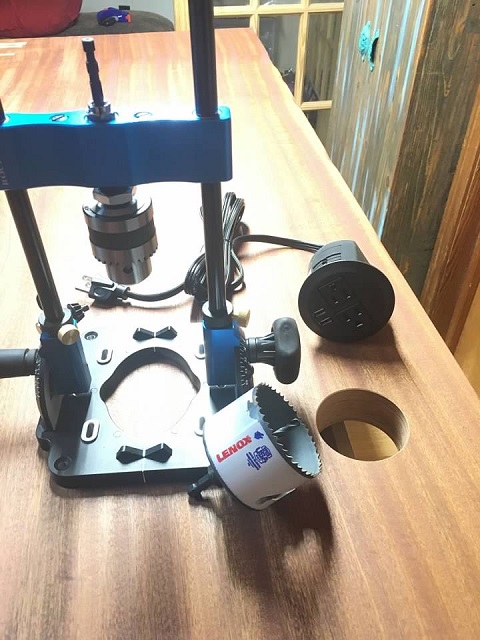 Mixed up ~45mL of the 3:1 ratio of parts A to B for the Rubio Monocoat to coat the bottom. Used ~65mL for the top and edges. Only took about 25mL for the second coat for the top & edges. Let me know if you have questions about the specific process I used for this application. Allowed ~ 1 wk to dry before delivery and it rained on it taking it into the new office....no issues.
Installed in the new office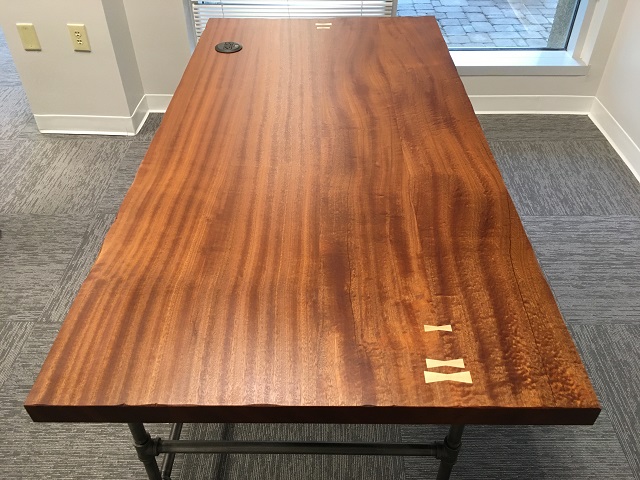 See the shelves in the back ground and how the dark cedar center shelf matches pretty well with the sapele....white pine slabs make up the top & bottom shelves. That shelf doesn't hold a candle to the look of the sapele in my opinion.