Board of Directors, Development Director
Jim
Staff member
Corporate Member
It's hard to over emphasize the importance the right size and shape of handle makes towards tool satisfaction. Whether it's a saw, file, screwdriver or just about any other tool there is some part that makes contact with one or both hands. This is the part that joins us to the tool, or put another way, allows the tool to become an extension of our hands.
We probably all have had tools that just don't feel right, and others which feel like they were custom made just for us. Getting that right balance between handle and tool is as much art as it is science. I'm convinced tool makers of previous centuries gave this a lot of thought. If you don't believe me, just pick up a handsaw made prior to the 1940's and then hold one you find on the rack in any big box store today. No comparison.
I'm in the process of making a set of plane floats (will comment on these in a future post). This tool is similar to a file or rasp and needs a handle that is comfortable in the palm. This post is how I went about designing and making these handles. Nothing complicated, just a few simple steps. My hope is it will inspire others to experiment adding a custom handle on a favorite tool.
First step is to select the right size and shape for a handle. For this I always go back in time to the tool masters. Hands haven't changed in centuries so why should handles. For my project I chose a couple of chisels that had the shape and feel I wanted. I wanted a handle that was well-rounded and easy to grip, but with enough heft to match the blade it would be holding. The picture below shows the two chisels and the new handle.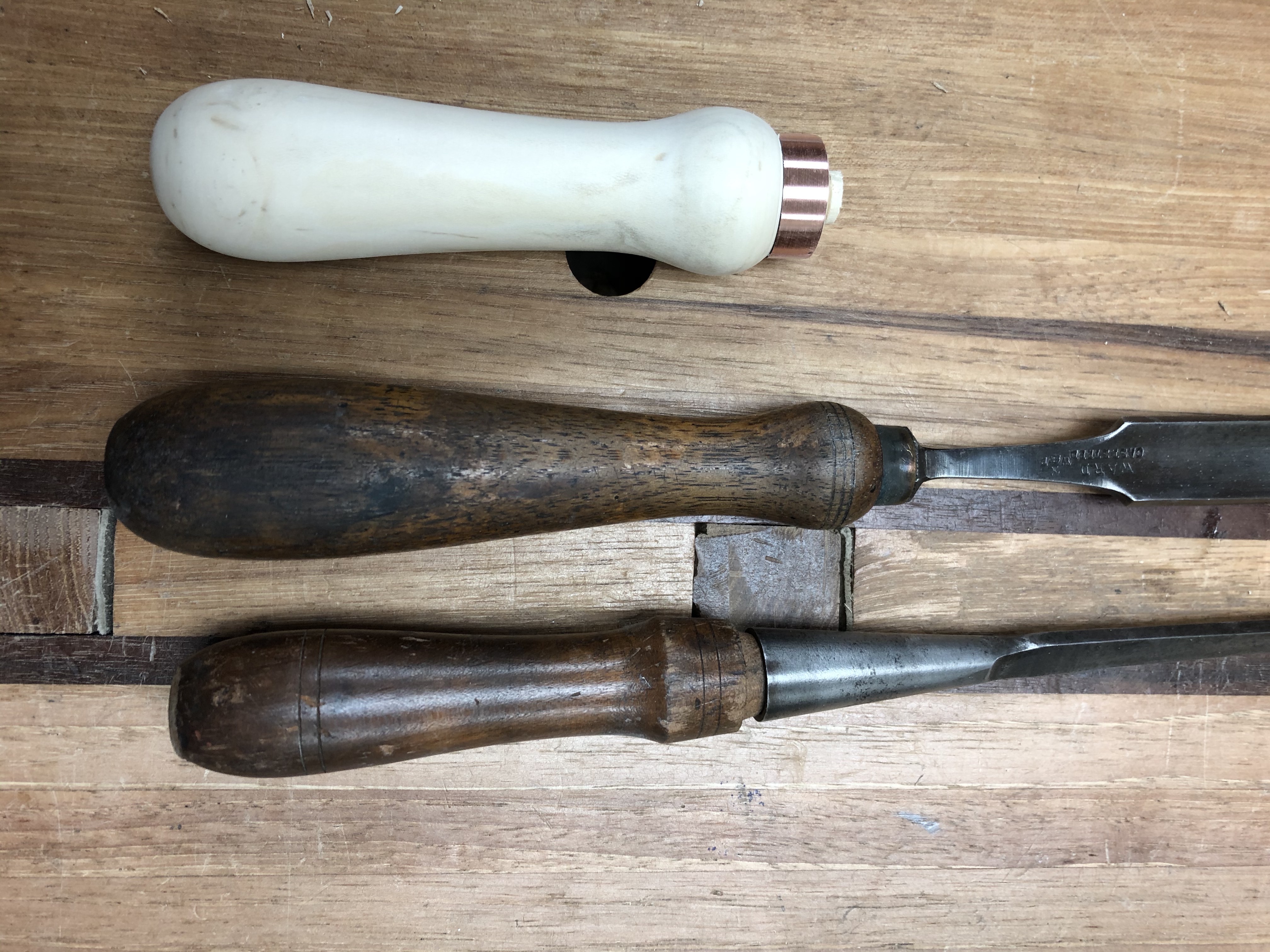 Ferrules are the metal ring that keep such a handle from splitting, both as the metal shaft is driven in and from constant use. One excellent source I've found for these are the copper rings used in PEX plumbing. These come in multiple sizes. For this handle I chose the one for 3/4" pipe (7/8" inside diameter). The picture below shows a couple of the rings and two types of crimpers. Turn one end of the handle to the inside diameter of the ring, then crimp it in place.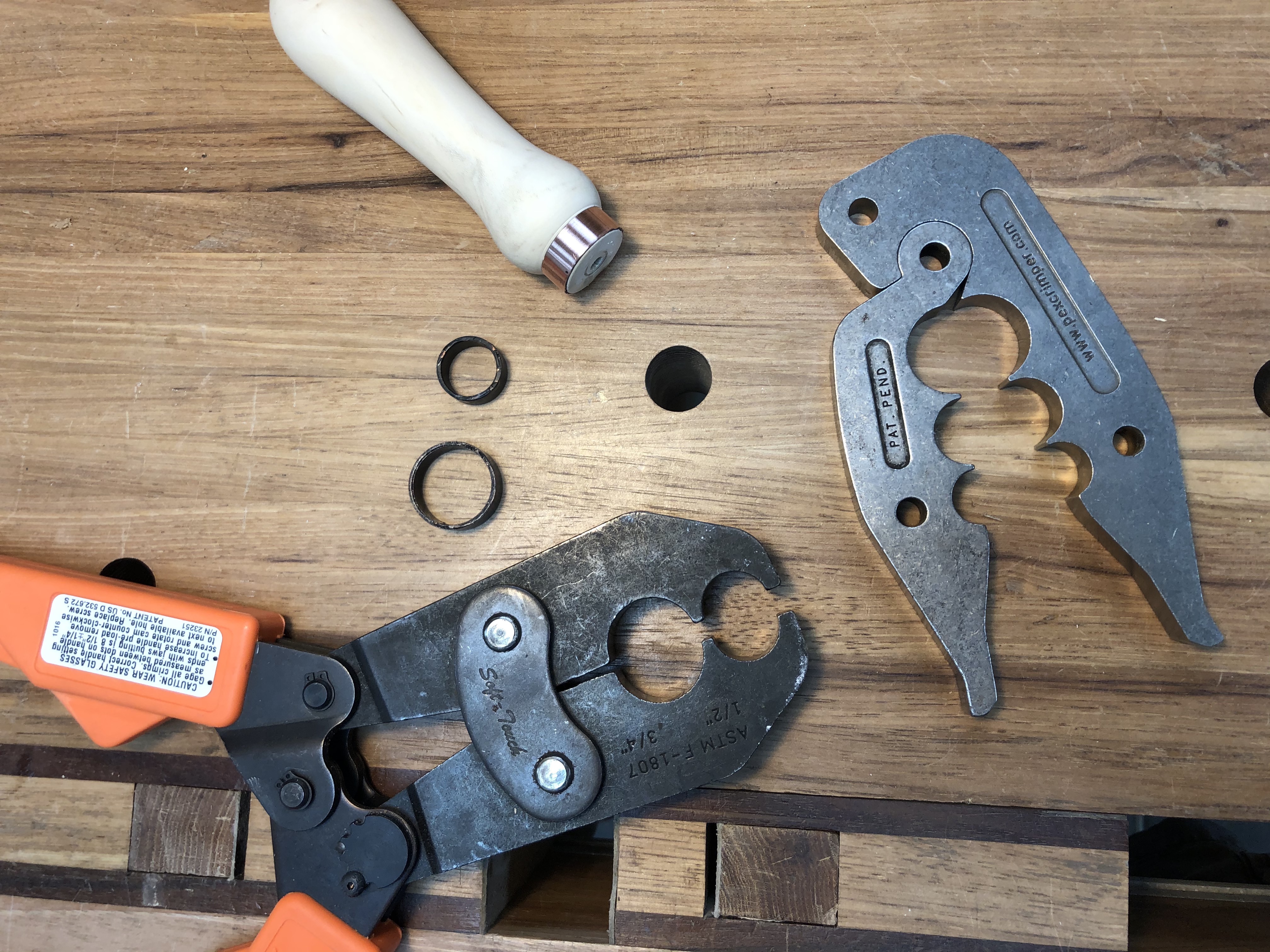 I chose holly as the wood to use. I had to remove a small holly tree from the back yard a few years ago. I saved a 3' section of the trunk to dry. It was about 2" in diameter and perfect size for making the handles. Here's a section mounted in the lathe.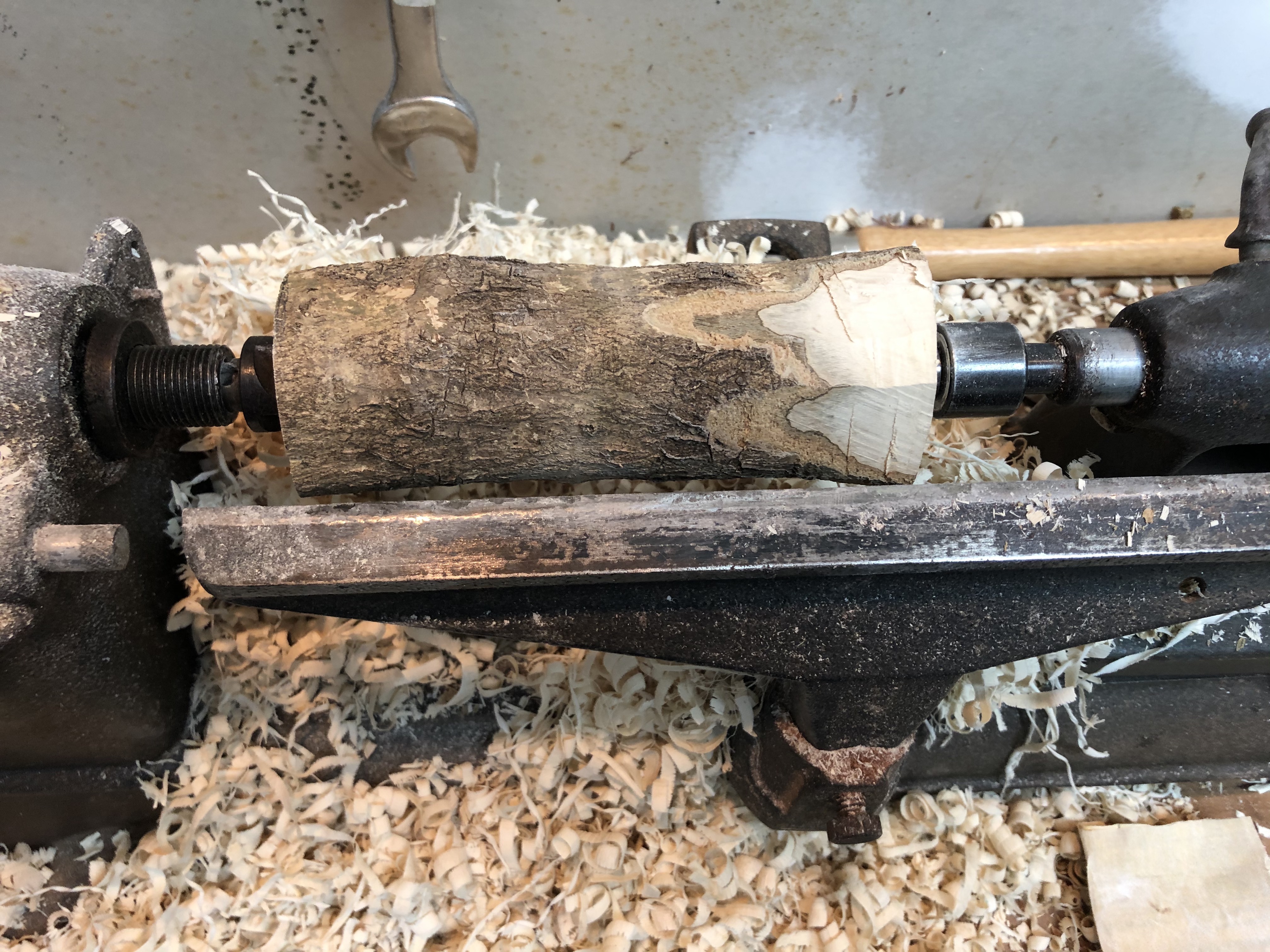 It wobbles a bit at first but is quickly turned into a cylinder. Holly turns beautifully, is easy to work. Hardly any sanding is required. These are a few pictures of the interim steps.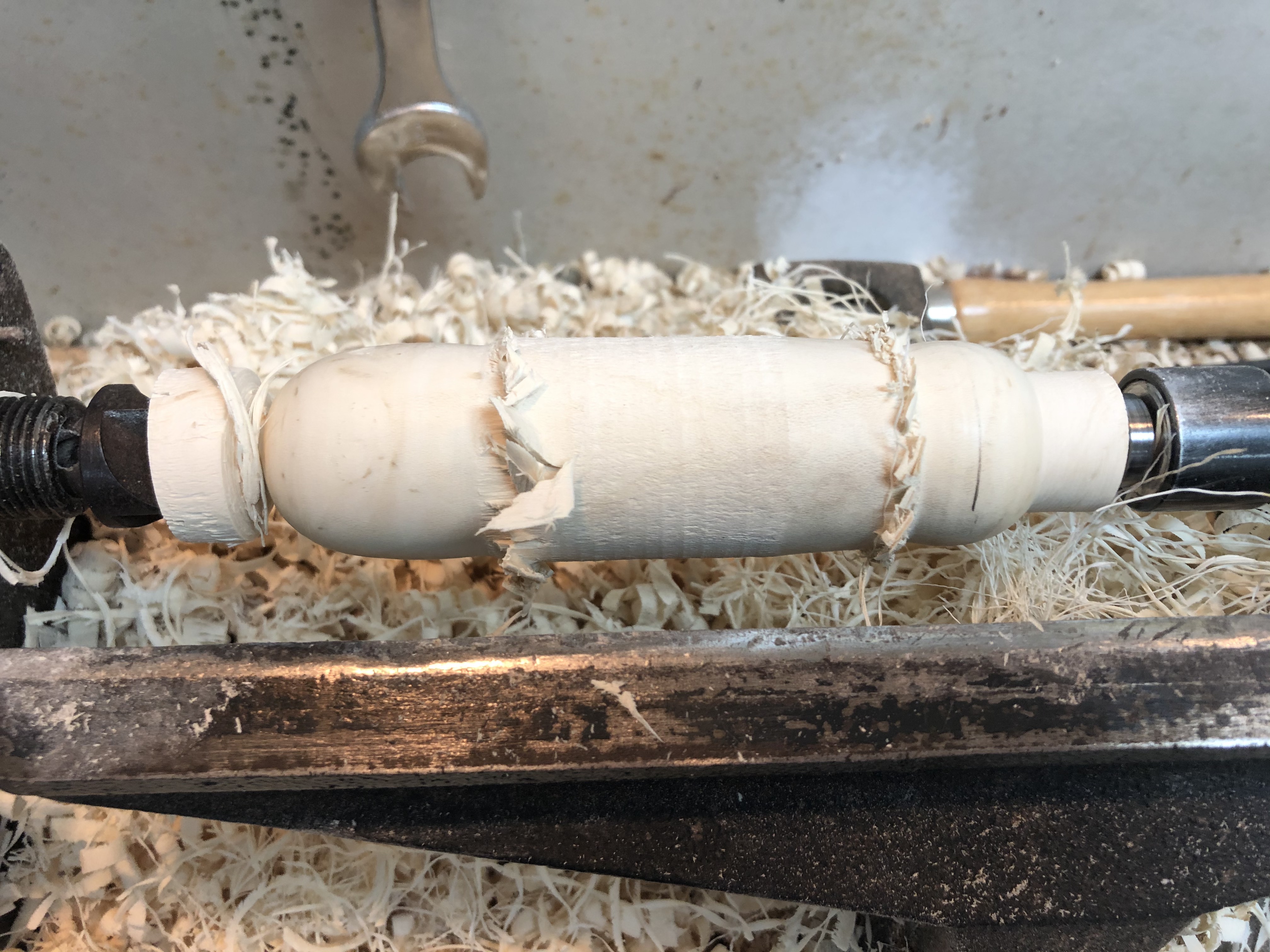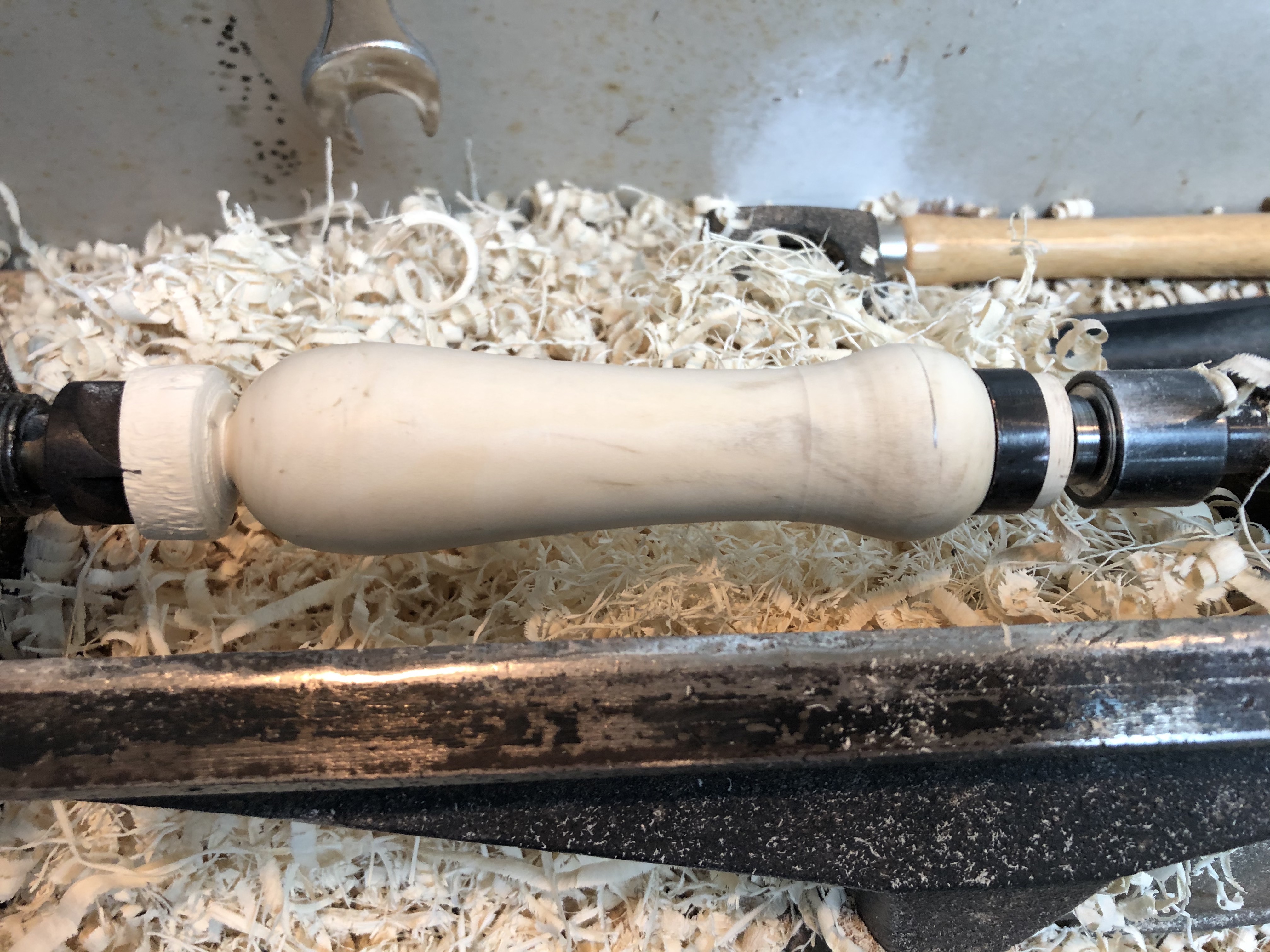 In the last picture you can see the ferrule has been crimped to the handle. This allows me to use a file and sand paper to finish the ferrule on the lathe along with the handle. Last steps are to bore a hole for the tool shaft, apply some finish and add the tool. Turning one of these handles takes less than 15 minutes but will add years of useful life to a favorite tool.