The first project was a curved front cabinet with a veneered door. it is made of sepelle that i bought from Jack Murdoch in rolesville. the sides are excellent straight grain and just a pleasure to look at. dovetailed into top. the middle drawer front is wider than the drawer to conceal the drawer dividers.
construction:
the door was made by using a bending form and a economical vacuum bag from roarocket.com - i recommend this vac bag. the core is made of 3 sheets of bendable 1/8 in. plywood with alternating layers of commercial veneer. then the door is edge banded and covered with shop sawn sepelle veneer.
cutting the show surface veneers:
i cut the veneers for the inside of the door first and glued them on as a test. it went well so as i was sawing the external veneers, the bandsaw switch went out and it sat for a couple weeks. as you can see in the 2nd picture, put an arrow, the door bowed a little. maybe someday i'll replace the door. and the drawer front veneer is cross grain....i know it could be trouble but i did it anyway.
knobs are especially brittle ebony. they were painful. cool intro into vac bag and curved laminations.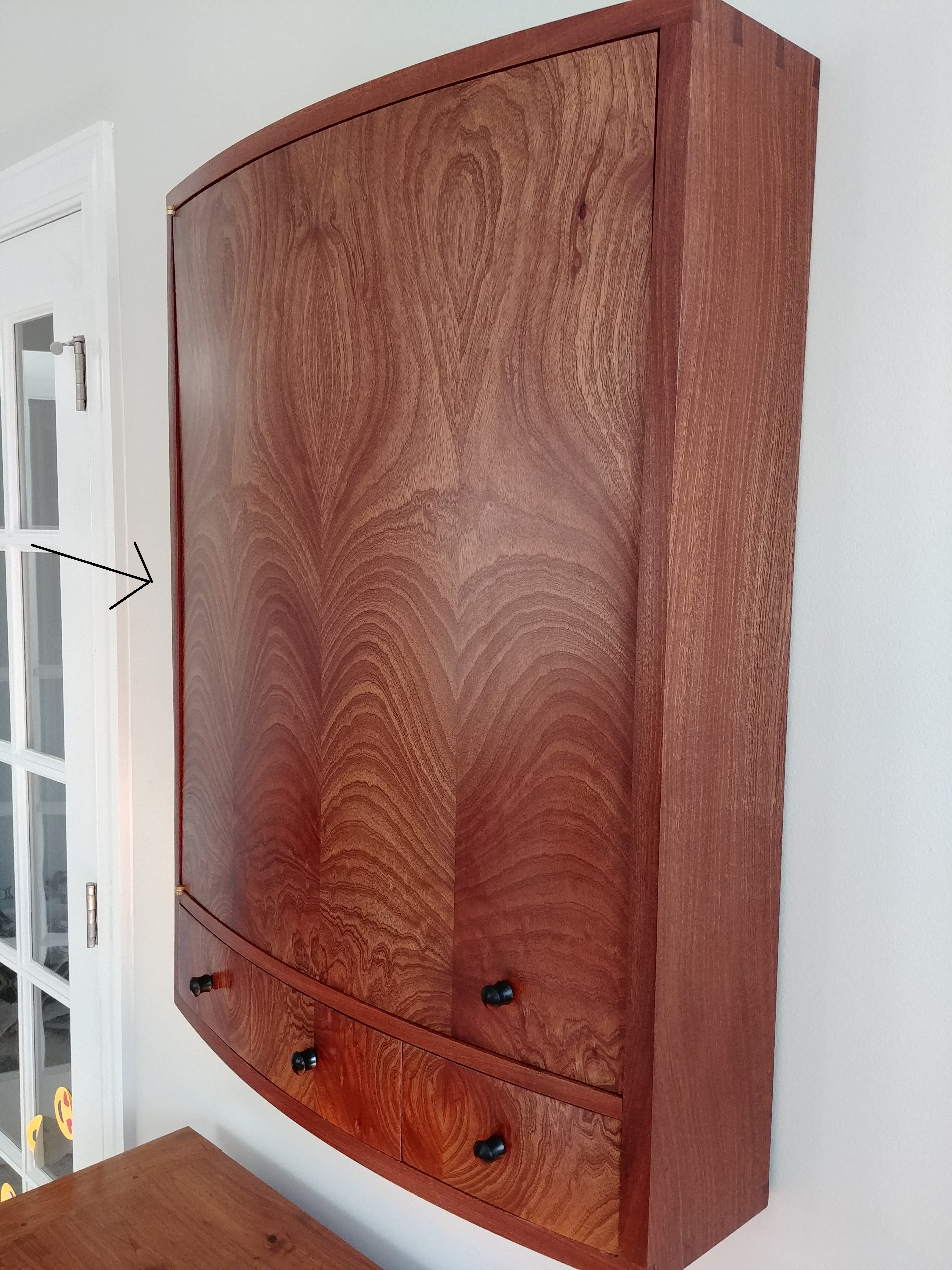 the second project was a quick pine wall cabinet and kind of a response to how long and involved the previous curved door project was.
Construction:
it uses mitered dovetails on the case which really makes adding the back panel a breeze.
the shelf is in a shouldered sliding dovetail. i like that joint.
in order to use both joints and have curved shelves, there is a little 1/4 step up from sides to the shelves.
Surface Prep:
i used only hand planes and spokeshaves to finish the surfaces. once you accept that you may leave a tool mark, its liberating. i left the project unfinished.
Back Panel:
i used the vac bag again, taking 1/4 ply and veneering it with a straight grain piece of douglas fir. i think that it came out really nice.
last pic has an effect applied to it from my phone to show the contrast....the lighting in the water closet is not so good.