So since last fall when I evacuated for Hurricane Florence and occupied some of my time away watching Mr. Puzzle videos on YouTube I've become more interested in puzzles. As some might remember I am currently building a sequential secret cabinet that is mainly a functional cabinet that requires a sequential order in which to open and find all the secret compartments. From a practical standpoint it will be used to hold my various puzzle boxes and mountain climbing books. The project is coming along well and I'd say more than half way done.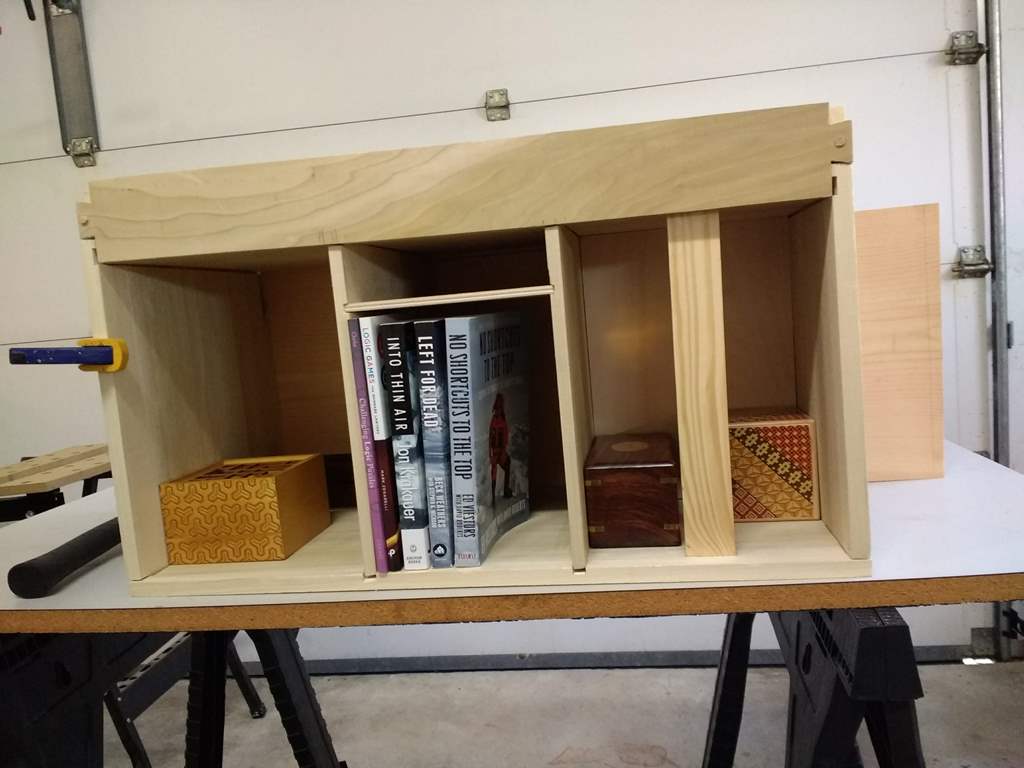 This is how the piece looked in February back before I replaced some of the parts and glued up the carcass. But you get the idea with puzzle boxes, and books in place. The two side sections will have doors, only one of which will have a standard cabinet lock. The vertical board will lock the right hand cabinet like that used on a Dutch styled tool chest.
There is a lot more going on with this piece than you can see at this point. I've since built several of the mechanical and secret parts not shown in this image. Can't give it all away too soon.
But I started this thread not only to update on my project but also to talk about wooden mechanical models by UGEARS. Has anyone done these? Mr. Puzzle has featured a few on his YouTube channel and I bought the Treasure Box model last week when we were in Asheville. I've tried the popular Metal puzzles but they were just so small and the metal not very strong. Of course I was probably stupid to start with R2D2 which has rounded parts that you have to round. I've done plastic aircraft models for years and found that helped me with learning hand skills that I use in my museum conservation work on ceramics and glass. I've also done conservation on clocks and in fact once disassembled an Eli Terry shelf clock all the way down including all the wooden gears, put it back together and got it to work again. So I thought I would take a shot at this UGEARS construction project. Definitely something to commit a weekend to, not just start on a weekday evening. I bought it for a hot nasty summer weekend but I think I'll work on it today.