Hello all, I have a bit of a situation here and a friend of mine said this maybe the place with the right people to help with options or suggestions.
On April 1st I got a 3'-3'4" in diameter oak tree cut down in my Durham backyard.
I have 5 very large pieces of oak tree trunk left.
I have done my best to include pictures from several angles and number the pieces to match up with the dimensions in the list below. I also included 2 pictures for size reference before it was cut down.
1. 3' - Diameter by 12' long.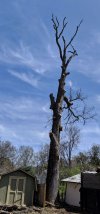 2. 3' - Diameter by ~12' long.
3. 3'2" Diameter by ~24' long.
4. 3' by 19" Wide by ~24' long.
5. 3' by 19" Wide by 5'7" long.
Would it be worth it and is it feasible to make slabs out of this material?
If so, is it possible to do on site or would they need to taken away to a facility?
If the consensus ends up being not usable, which would be a bummer, I would need suggestions on what to do with it.
I am knew to this forum and I am glad my friend recommended it. I have already gotten lost in the posts.
Lots of great information and seems like a great supportive community.
If further clarification is needed, please let me know.
Cheers,
Jason