While building the coffee table, which I recently posted, I experienced a situation that provided a lot of momentary anxiety, pain, and a little humor. I shared this experience with fellow-woodworkers during the recent Raleigh area shop crawl, but I thought others may identify with my story.
The upper and lower aprons on the coffee table are made utilizing bend wood laminations, which was a first for me. For those not familiar with the technique, it involves cutting the stock into thin strips (mine were 1/8"), glueing both sides of the strips, stacking them to the desired thickness (I wanted about 3/4" so I stacked seven strips...I know that is more than 3/4, but I wanted to have plenty of thickness so I could thoroughly sand both sides), the glued stacked is then placed into a pre-made form and clamping pressure applied to bend the entire stack. In my case, the strips were 8' long, so it required a lot of glue and it took more time than I was expecting. Even though it was my first time, the process went reasonably well for the lower apron. That said, I was determined to make the process for the upper apron even more efficient through better preparation. So, I got everything laid out, including a new bottle of glue because I knew the bottle I had been using wasn't enough for the entire apron. All was going smoothly and as I expected I ran out of glue, so I switched to the the new bottle. When I squeezed, nothing came out - I didn't think it was a big deal, I thought it was merely dried material at the tip. As it turned out, it wasn't just the tip, the entire nozzle was plugged. Even though I was getting a little anxious, I thought no big deal, time is not critical - yet; but, I still had to deal with the plugged nozzle. I pulled the entire nozzle off the bottle and started looking for something to remove the plug. The first couple of efforts with an assortment small tools I had within reach didn't work, so I grabbed a Phillips head screw driver and inserted it into the tip of the nozzle and began pushing. I was holding the nozzle in one hand and pushing into the plug with the other; I knew that I needed to be careful, but when the plug finally released, somehow or another the end of the screwdriver plunged into my hand! It was one of those moments when you knew it was going to hurt, but your brain and hand did not immediately communicate with each other...but when the brain finally realized what the hand had experienced, it REALLY HURT!
Time was now becoming and issue, what do I do...finish the glue up or take care of my hand? My hand hurt, I could see blood under the latex glove, but I was only halfway through gluing up the apron. After taking a minute or so to assess my situation, and for some reason finding a bit of humor in it, I decided that even though I was hurting, there was a whole lot of work involved in getting to the point I was at and I didn't want to do it over. So, I went about finishing the glue up and successfully bend the material into the desired shape. I am sure there is a lesson or two to be learned from this experience, only time will tell if I learned them.
Below is a picture I took to memorialize my predicament.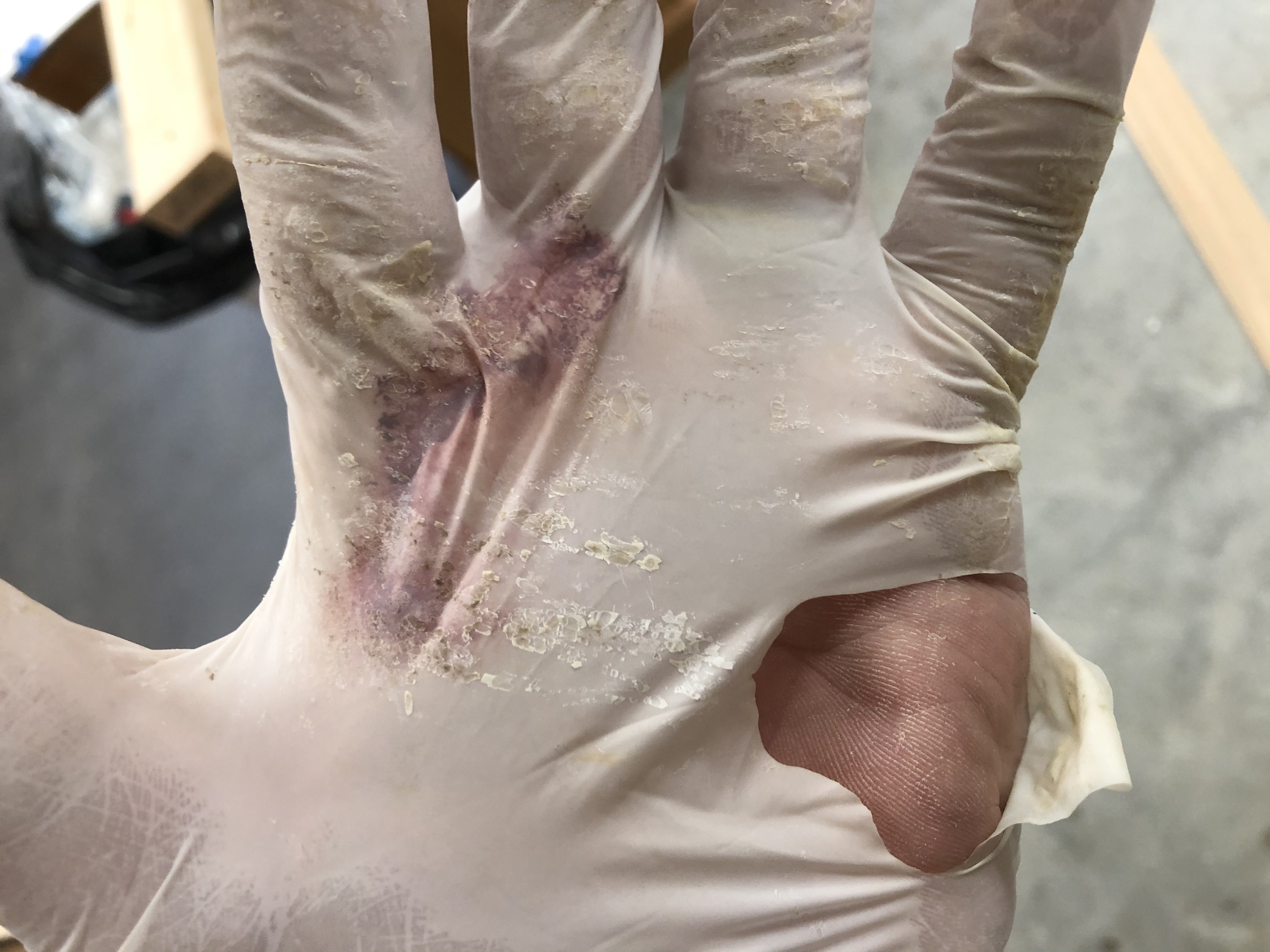 Last edited: