More than any other question, I repeat over the phone or to visiting woodworkers that just saying shellac is like telling me you want to varnish something. You do need to be more specific to achieve what you want.
In the past I have encouraged other woodworkers to give any of the shellac finishes a try. Most stop in isle 17 at one of the big box stores and buy a quart can of orange shellac(Amber) or the clear variety. Some get lucky and find the sealer which is better than either of the first two products. All premixed with a limited shelf life and a somewhat questionable production date. Kind of like searching for the date a used tire was made.
This is a discussion about a finish for inside use. Not outside.
Now that we are going to put the object indoors settled, there are 5 different shellac flakes in my drawer as I consider how to explain this in simple terms.
A couple suggestions(I have said rules in the past and started a riot):
1. Use flakes. After 38 years of comparing the canned shellac to the flakes-- it is not the same. The stuff in the can is the Honda Civic and the flakes are closer to the Acura. They both use alcohol but that's where it ends for me. Added: the can stuff does contain wax for what reason I will never know.
2. You can make the wood you are building with look different depending on what "shellac" you choose to apply. There are several ways you can buy a sampler pack and try the different flakes and compare the results. Super blonde flakes do not look like Garnet on the same wood.
3. Shellac flakes have a very long shelf life. When you buy them they are dated and you can do your own "acid test" when you mix them up. I put my flakes in an old coffee bean grinder and make a powder. All I do is cover the entire dust pile with alcohol and wait 2 hours. If it is a clump of goo that I can not shake up easily, the flakes are too old.
The saddest story I have heard connected with shellac was done by my friend. He ignored my guidance and applied a commercial shellac from a can and covered the entire piece. He went back and put 2 coats of "protection" with Waterlox. Not a bad idea till it peeled off from the wax in the shellac. Instead of admitting he was a bonehead, he tells people till his last breath that shellac is junk. Well he uses a different expression.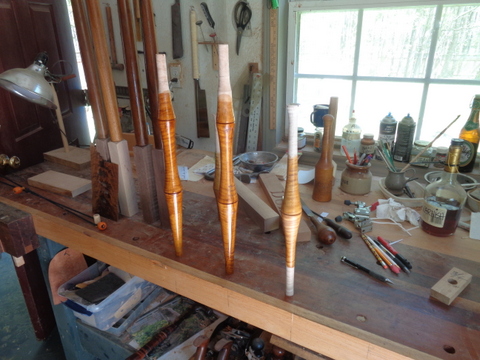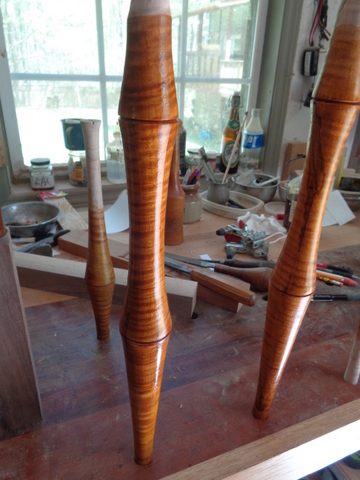 I am working on a chair that will have curly maple legs. Notice the difference between the 2 legs and the stretcher? The legs have a deeper color that I like. No there is no die here. The legs are 2 coats of Garnet and the stretcher is orange shellac.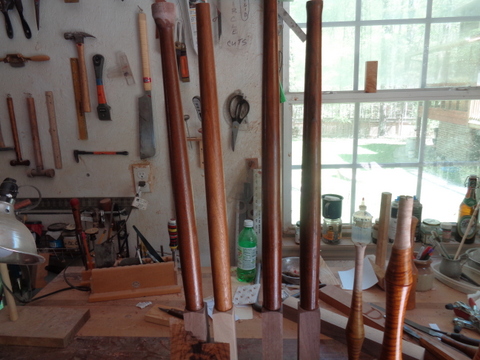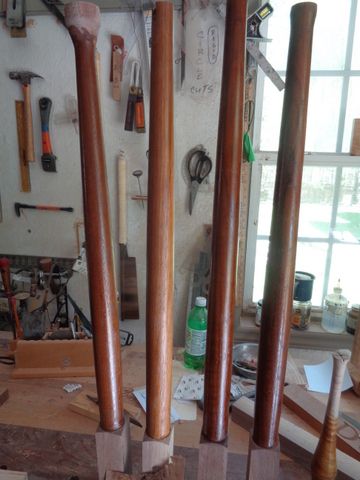 I am making another small shaker style table again. This time in walnut. To make a point again, shellac is not all the same. Garnet does not impart the same darkness that Super blonde shellac does on walnut or any other wood. This is one coat of the finish applied to the legs above for illustration purposes.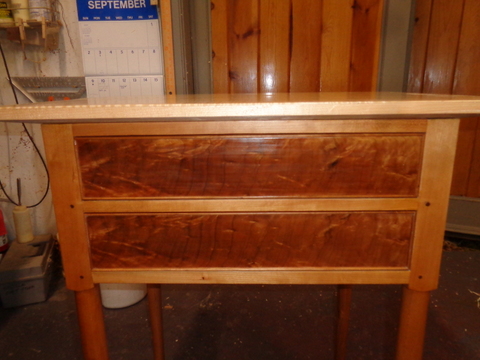 The cherry table above was full of surprises. Lots of color variation so I chose to just go with it.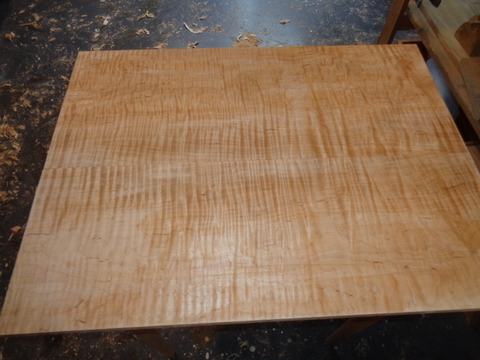 This table top is 2 coats of super blonde followed with some varnish.
The table top was sealed with super blonde shellac and then some water-based varnish. My grandson is rough on table tops and it was headed for his room. The grandkids think nothing of putting gatorade on it for the evening when they stay at the house. You have to plan.
Hope this helps. If you have questions I'll try to answer them.
Till then