Board of Directors, Development Director
Jim
Staff member
Corporate Member
I have some reclaimed chestnut lumber that I've had for years and finally got around to removing the nails. These are 2" x 6" that were originally rafters. All the sheeting was nailed with 16d nails -- probably when the wood was still green. Fast forward a hundred years and the tanic acid in the chestnut has rusted the nails to the point where most could not be pulled out without breaking. It's almost as if they were welded to the wood.
After pulling out what I could I turned to using an old chisel to excavate around the nail so I could use vise grips. This got a few more. However, some were so bad I resorted to simply using using an old blade on my circular saw and removing about 1-1/2" from the width. Two blades later, and a lot of cut nails, the job is done!
My first thought was to give the cutoffs to my neighbor for his fire pit. Then I thought someone here might have a use for these. They still have the nails, but these can be driven out from the back with a punch now that I've cut them. The strips are about 1-1/2" x 2" and roughly 3' long. If anyone would like these they can PM me. I live south of Raleigh, sort of between Cary and Holly Springs. I will also have some chestnut for sale later this year, once I dig it out and decide a fair price.
If you've never worked with chestnut before it has properties similar to oak, though not as dense, and is easier to work. It's very open grained and planes to a smooth finish. These cutoffs have both worm holes as well as the stain from the iron nails reacting to the acid. Not for use on any sort of fine furniture, but perhaps interesting on a small, rustic project.
To get a better idea of how the wood looks I've included a couple more photos. The first is a box I made for my Stanley 45 out of chestnut, finished with Danish Oil. The second is a chestnut board that's been planed. The cabinet behind it is made of oak so you can see the similarities in grain, texture and color.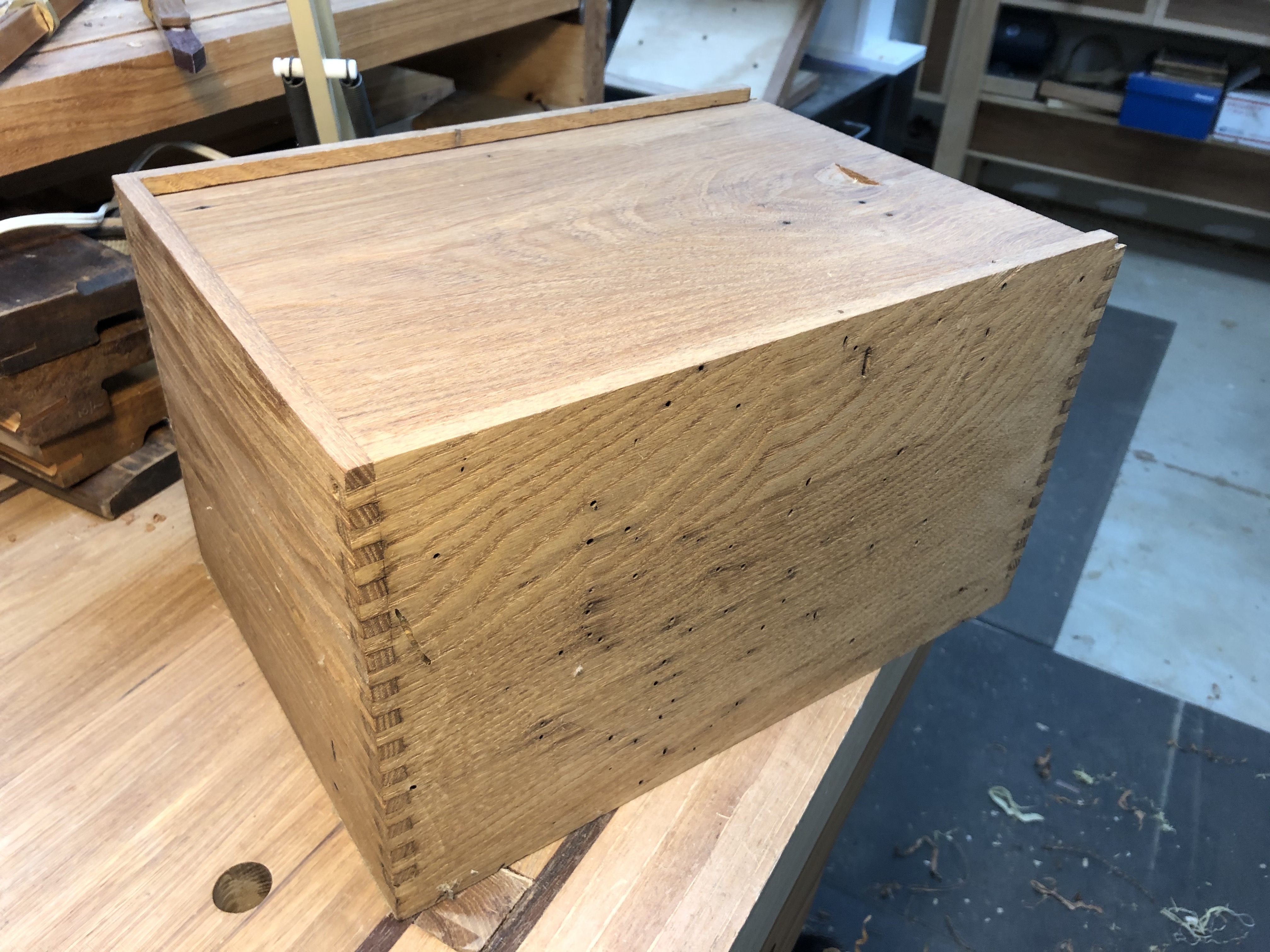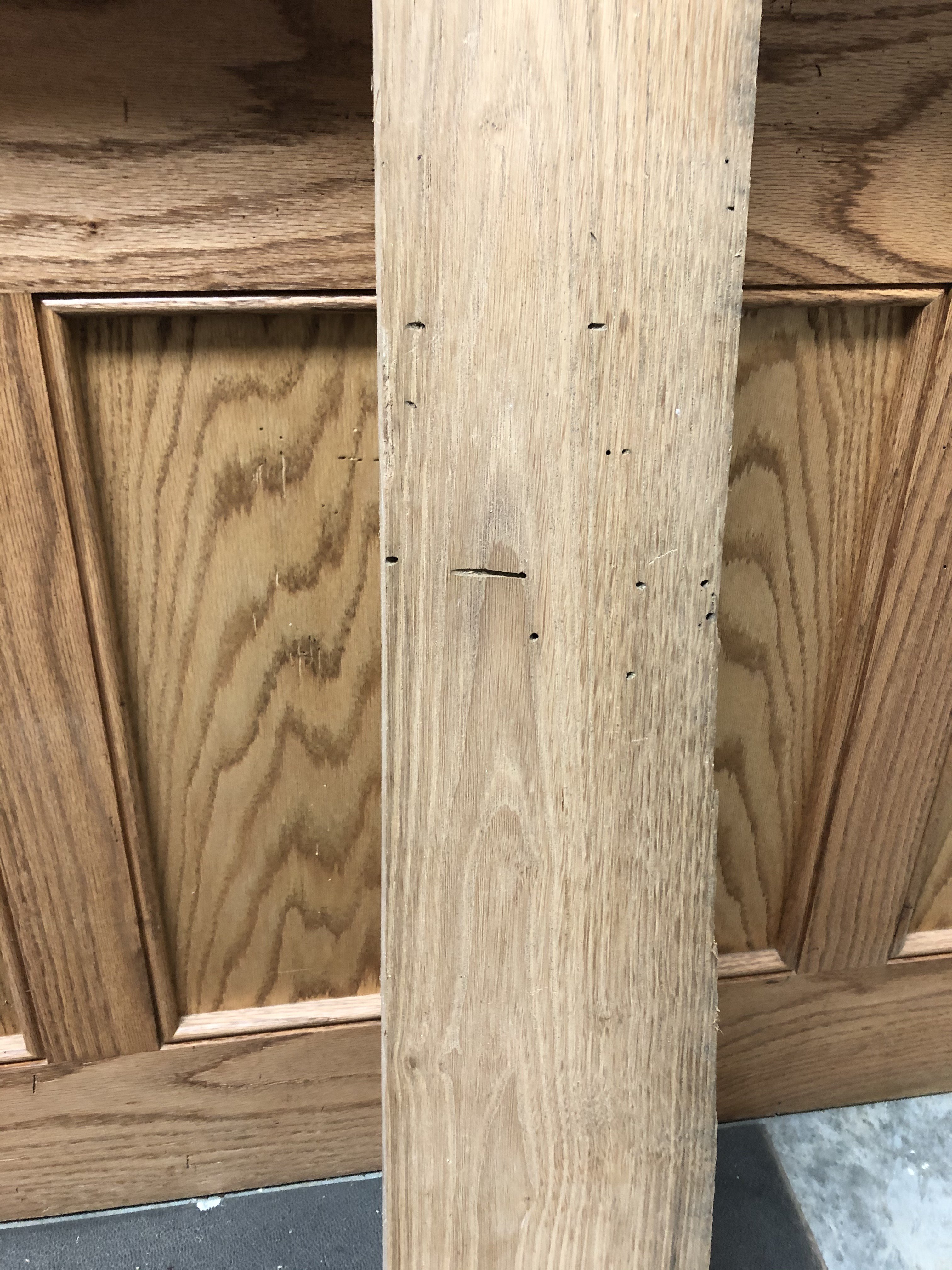 The trees used to make up almost a quarter of all trees in the eastern forests. They were a mainstay, growing fast, tall and producing an abundance of nuts. Their range stretched from Alabama to Maine. The wood is extremely rot resistant. Unfortunately, they succumb to a blight that was introduced in the late 1800's from Asia that kills the tree fairly quickly. In a matter of decades they were all but extinct throughout their natural range. Their loss is one of the greatest tragedies to ever happen to the Appalachian forests. Fortunately, some serious efforts are being made to restore the species through transgenic engineering. You can find out more at the
American Chestnut Foundation's
website. There is currently a
request
before the USDA to introduce the genetically modified trees into the forests. The modification allows the transgenic trees to tolerate the blight that has killed the wild trees. They do this through the introduction of a gene from ordinary bread wheat that detoxifies the oxalic acid produced by the fungus.