This was by far my biggest project to date. I just bought a jointer and planer last year and embarked on this project last fall. This was the first project where i have milled all my own lumber, cut a round table and used purely joinery that doesn't include screws. It was a pretty awesome learning project and im excited about the end result.
It all started with some old red oak that my dad had in the back of his garage from a church his company renovated and had planned to toss out. It was finished at 1.5" and had a pretty thick shellac or polyurethane on it. If I had to guess it was probably installed in the church in the 50s or so and has been in his garage for 5+ years. Widths varied from 3.5" to 11" but had lots of screw holes and nails in it.

I then drew up a sketchup plan to make sure the plan in my head looked right and got wife approval. I posted the sketchup plans here:
I only have a 6" jointer so I ended up cutting the larger boards between 5-6" to be able to surface them but it allowed me to remove some knots and nail/screwholes and keep just the "prettier wood". Final dimensions: 50"x50" top at ~1-3/8 inches.
For the base I needed a center post @ 3.25" and trestles at 2.75". I had to mill, laminate and mill again all of the pieces. For the center column I only had 1.5" pieces so I ended up laminating an extra 3/4 red oak from some flooring to get the 3.25" thickness. I didn't notice how far off the shade was until after I glued it up but the stain helped to blend it.
The top and bottom crossbars were halflap joints which was also a first. I cut standard passes on my tablesaw blade then cleaned up the bottom of the cut with chisels and a block plane. I learned not to try to cut right to the line, leave yourself some wiggle room and finish with sandpaper or a chisel. I have one halflap thats a bit loose but hard to tell unless you know where to look.
Next, I made a quick router jig for 24" diameter. I used a 1/2" router bit and cut down in 1/4" passes until I was over halfway through. I didn't like cutting that way any deeper so I cut away from my router line with a jigsaw, flipped the table and finished with a 1/2" bottom bearing flush cut bit.
Issues here:
1) I had some burning on the edges. I think this was due to the single flute straight bit I had. I thought it would be fine and I already had it but I think I should have gotten a newer double flute or upcut to cut a bit cleaner/faster
2) The edge I cut was not perfectly 90 degrees in every place and you could tell in some locations where the down cut and the flush cut bits were not even and took some sanding to clean this up. This was a first so I dont know if this is standard or due to my jig or movement in the router plunge base? It is a hitachi with a plunge base and a 1/2" shank so I assumed it should remain relatively straight.
3) I had chip out in 1 place where I got very perpendicular to the wood grain. I think I just needed to cut much closer to the final flush cut line here to give the blades less to grab and minimize my chances of ripping some wood out. I just sanded it down so there is one small chunk missing on an edge and told my wife it was a "feature" so people knew it was homemade.

Once I had all of the base parts milled, I set out actually building it. I bought a dowelling jig a while back (
3/8" Dowelling Jig with Main Body and Mounting Angle
) for this project and have used it on some shop furniture to make sure I knew what I was doing. Its definitely slower than more expensive methods but I go to the woodshop to relax so that's okay for now.
I put dowels on the base, column and top to lock in final locations. Then drew a center line on the column and slowly worked my way to a perfect length for the mitered trestles using some scrap wood. Then i set a fence and copied the length to all of the trestles. I cut all of these on the miter saw. I have a 10" sliding miter saw using a freshly sharpened 80 tooth blade. I definitely saw some movement where the blade drifted out during the cut. I used an engineer's square and a wixey digital angle guage to try to align the saw and it was always perfect but some ended with 90.5-91 degree cuts and had to clean up with a sander. Is there any way to fix this?
After everything was cut, I drilled dowels. With some help from people on this forum, I decided to use 4 dowels per joint to help support the glue and alignment when glueing.
Note to anyone using dowels/dominoes on 4 sides of a column, make sure beforehand that they will not collide when installed. I had to change my drill pattern halfway though. Luckily I drilled the column before the trestles and noticed the issue and was able to easily resolve it, but it forced me to pay more attention which pieces fit during the glueup.
Before I glued it, I decided to add some 3/4" feet to the base and add a 1"R roundover. This was the biggest bit I have ever used in a router and was very intimidating. I don't have a router table so I cut them with my plunge base in many very small passes.

I filed down some dowels to easily slip in and out so I could dry fit the entire piece together and then felt confident enough to glue it. I had a great plan of using the offcuts from the miters to hold pressure on the center trestle joints and screwing some clamp blocks to the top to clamp those tight. I was going to glue everything up at once so that the design would actually hold the joints tighter. It was a solid plan until 3 minutes in I realized I am a slow gluer, my clamping method works well with easy slip dowels but is not as great with glue and tighter dowels involved, and once pieces are actually glued and clamped, it is harder to move/hammer/clamp new things in place when you have clamps in the way. So I glued up each side separately.



Now that the top was glued/cut and the base was glued, I had to go about sanding and finishing. This is the moment I learned that I probably could have pre-sanded a lot of those inner sides that I could no longer fit a ROS. So i handsanded the inner sections with paper and a block with 80/120. Then used a ROS to sand the easier to reach sections with 80/120/150.
For the top, I realized there were some nail/screw holes that I liked but would probably store the food my 1 year old would cram into it and I wasn't sure if I could properly get finish in there. I wanted to keep the look but block it from being a gross food filled hole so I filled it with epoxy tinted black. This was my first time using epoxy and while trying to sand the black tint that leaked down the grain a bit, I sanded a bit of a dip. The next time I would either try to tape off where I don't want black dye or maybe just be better at pouring epoxy or maybe even just sand the whole tabletop down a bit further but that is a lot of time. It was a learning process but you can see a bit of a dip in the finish. I then sanded tabletop and bottom 80/120/150/180/220 (220 just for the top, got lazy on the bottom and didn't think anyone would notice).
Then I had to get proper signoff on color from the wife. Looking back this should have been done earlier but I thought it would be easier. I wanted to see what the hype was about and a single coat covering sounded like the perfect product for a lazy person who had to finish lots of tight corners so I tried to go the route of Rubio Monocoat 2C colors. I looked at their colorchart online, compared it to the chair colors and ordered a few sample sizes. (I do not consider myself ready to make chairs so we bought them...) After those colors were an absolute failure, I doubled down and found a dealer locally where I could buy samples (In raleigh, American Products Inc is the only dealer I could find). After 3 more trips there for 10 more samples, ordering rubio precolor (Rubios water based stain) online because no one locally sells it, I finally admitted defeat and went to get the experts opinion at Klingspors. They were super helpful. I brought in a wood sample I needed to match and got pretty close with the first stain I bought. But this put me using polyurethane and a lot more work.

So after a coat of prestain conditioner, 2 coats of GF greystone, and 3-5 coats of GF high performance, I had a pretty nice result. I'm pretty proud of the outcome and it was a fun learning process for lots of new skills. The top bowed on me a bit but the table clips seemed to have held most of it. It is about 1/16-3/32 higher in the center than the rest.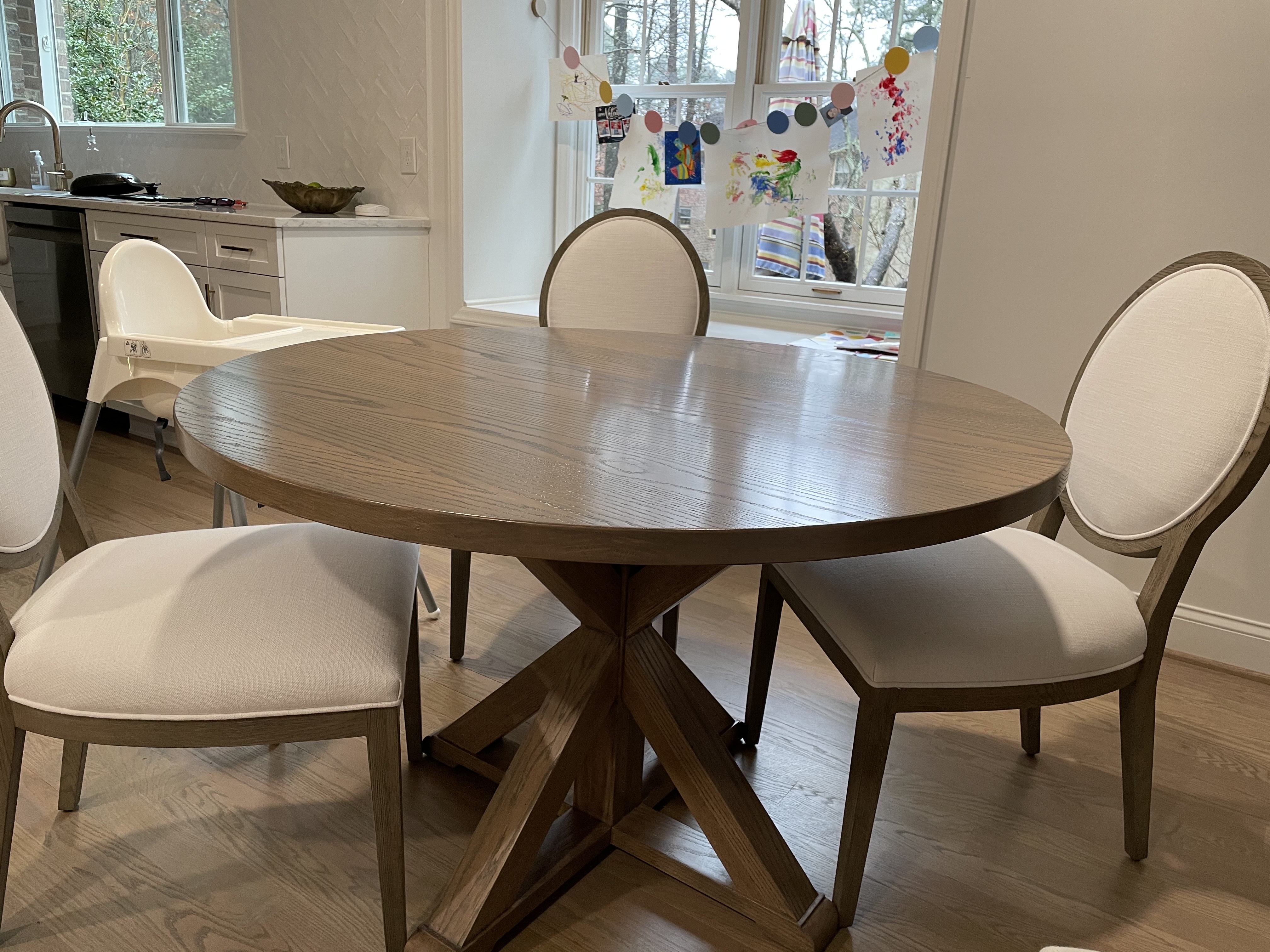 Things I learned:
1) When you mill wood for large flat panels, mill close, sticker them for a couple weeks and then mill again and glue. Don't Mill and store in a stack on the floor then glue them when you have time.
2) Stain your table then use that to buy chairs. Don't let your wife get excited and order these first. You will waste lots of time/money trying to match. Or better yet build them and stain them the same color. I'm working my way to that one.
3) Clamping big miter joints is tough. I ran across these later but think they would have helped.
MCT - Miter Clamping Tool
I think you could just cut the same shape out of some plywood and use that though. Just the theory/shape that seems pretty clever.
4) Rubio wont cover old red oak
I'm always trying to learn more so feel free to point out places I could have done smarter.