Charlie
Corporate Member
Recently completed a 7-drawer dresser for my son. I had built him a A&C style spindle bed and night stand about 9 years ago and he wanted to have a matching dresser. I had saved the templates I used on the original project corbels and incorporated that shape into the new design using cherry as before. I used a photo of a Harvey Ellis dresser to come up with the drawer and pull arrangement but added the corbels from the bed design to help tie it together using dimensions my son furnished for his space requirements.
Did not make a bunch of photos this time but a few showing the finished project and some construction details as the project was underway.

Finished project installed. The earlier bed i made is partly visible in the lower left corner of the image. I think the finishes match pretty well for being 9 years apart.

Construction progress showing the frame and panel or post and panel structure in progress.

Frame work together ( on a platform behind the bench)to begin fitting drawer fronts.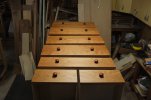 Drawers lined up on the bench for finishing the fronts. I used cherry knobs attached by wedged through tenon and dyed a shade darker than the drawer fronts.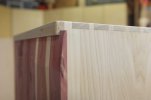 Detail of the bottom drawer showing the slips and the red cedar bottoms.

Bottom drawers showing the red cedar drawer bottoms.

Finally the dresser asembled on my assembly platform which I had to stretch a little to accommodate the 5 ft dresser.